Ironman 70.3 Rapperswil Race Report June 2022
Race debrief from my first Ironman 70.3 in Rapperswil Jona, Switzerland. Summary: it was hot, 35 degrees hot, and I finished it.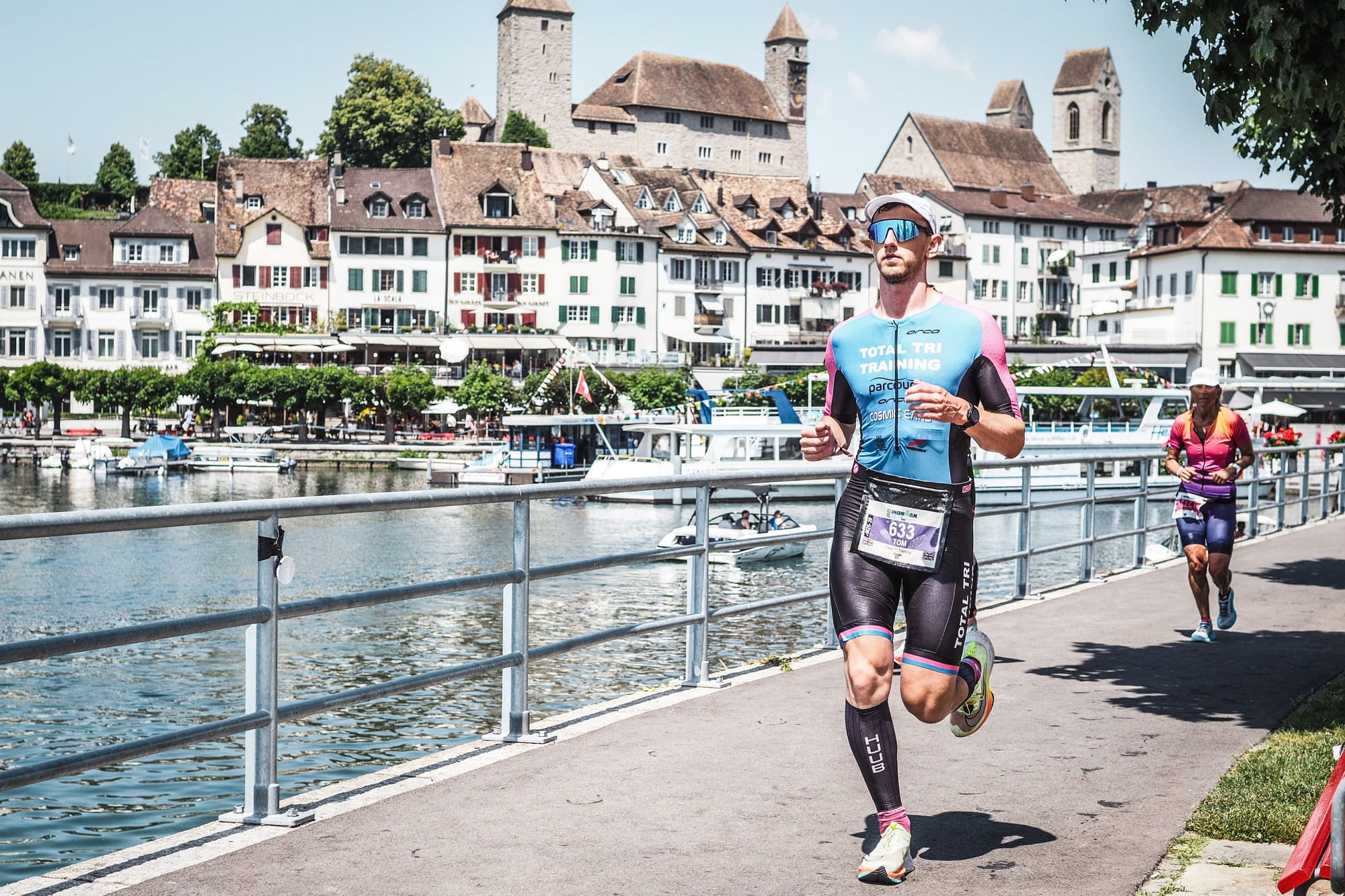 Context
On Sunday 19th June I completed my first ever Ironman 70.3, in the absolutely beautiful Rapperswil Jona, Switzerland. After the race, I wrote some notes with my coach at Total Tri Training to debrief.
I think taking race debrief notes is a super valuable reflective activity. Sitting down a few days after a big A race event to reflect on the lessons learned is immensely valuable.
I am reviewing these notes ahead of my next race (Marbella 70.3 in June 2023) - and there is so much detail here that I had lost to time - a testament to how investing the time in a race debrief is a good way to aid your progression in triathlon.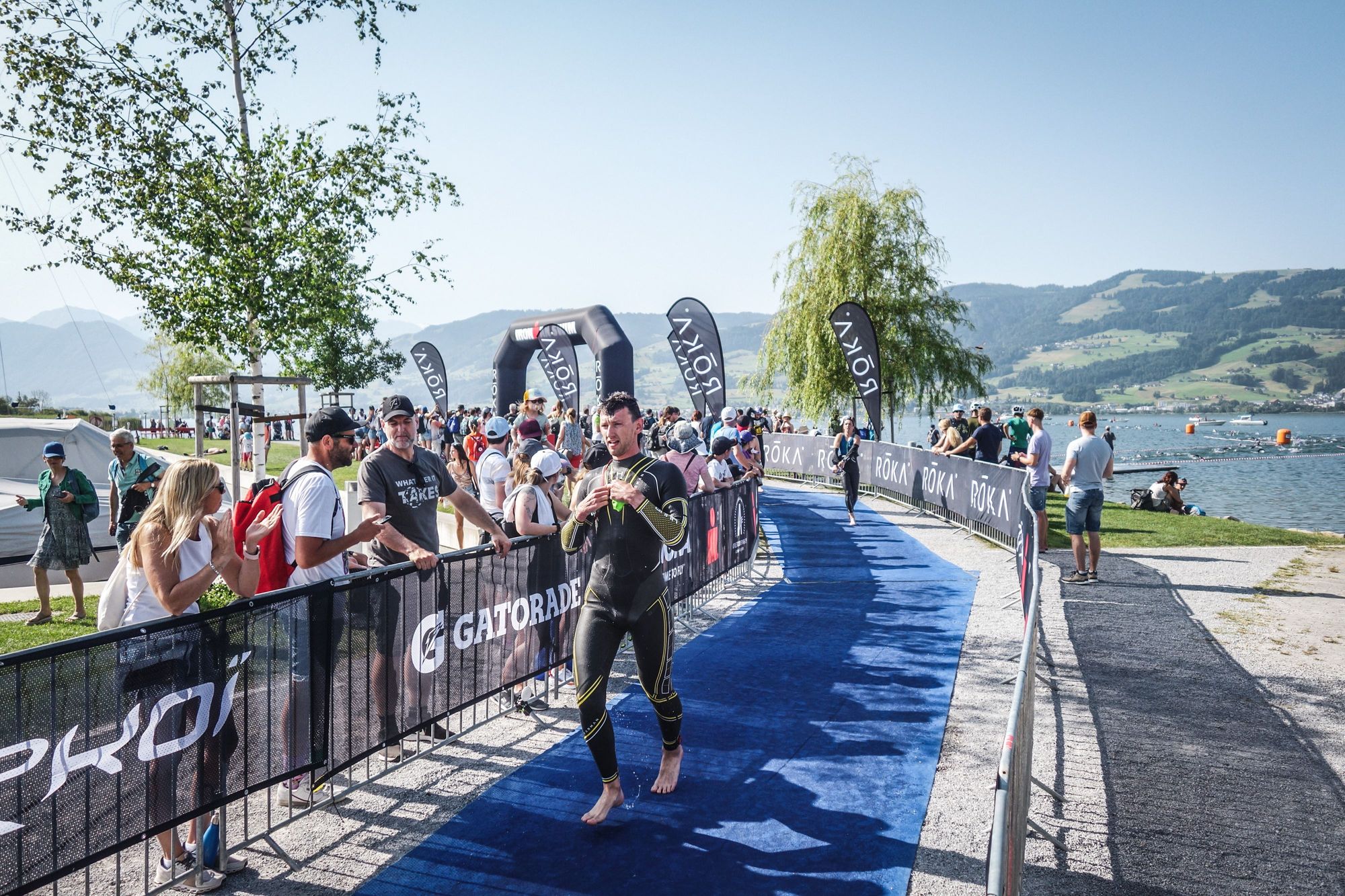 Results
🏊🏻‍♂️
1.9km lake swim in 33:42
Race Recap
What were the circumstances of the day (weather, terrain, competition, etc.)?
It was hot hot hot - there was a heatwave on the weekend of the race, and the temperature reached 35 degrees Celsius on the run
There were fairly easy climbs for 1000m total elevation over 2 laps - 1 short that peaked at 17% briefly and one longer climb at 6% - followed by incredibly long flowing downhills
I was ignoring competition/others, and focusing on what my body was telling me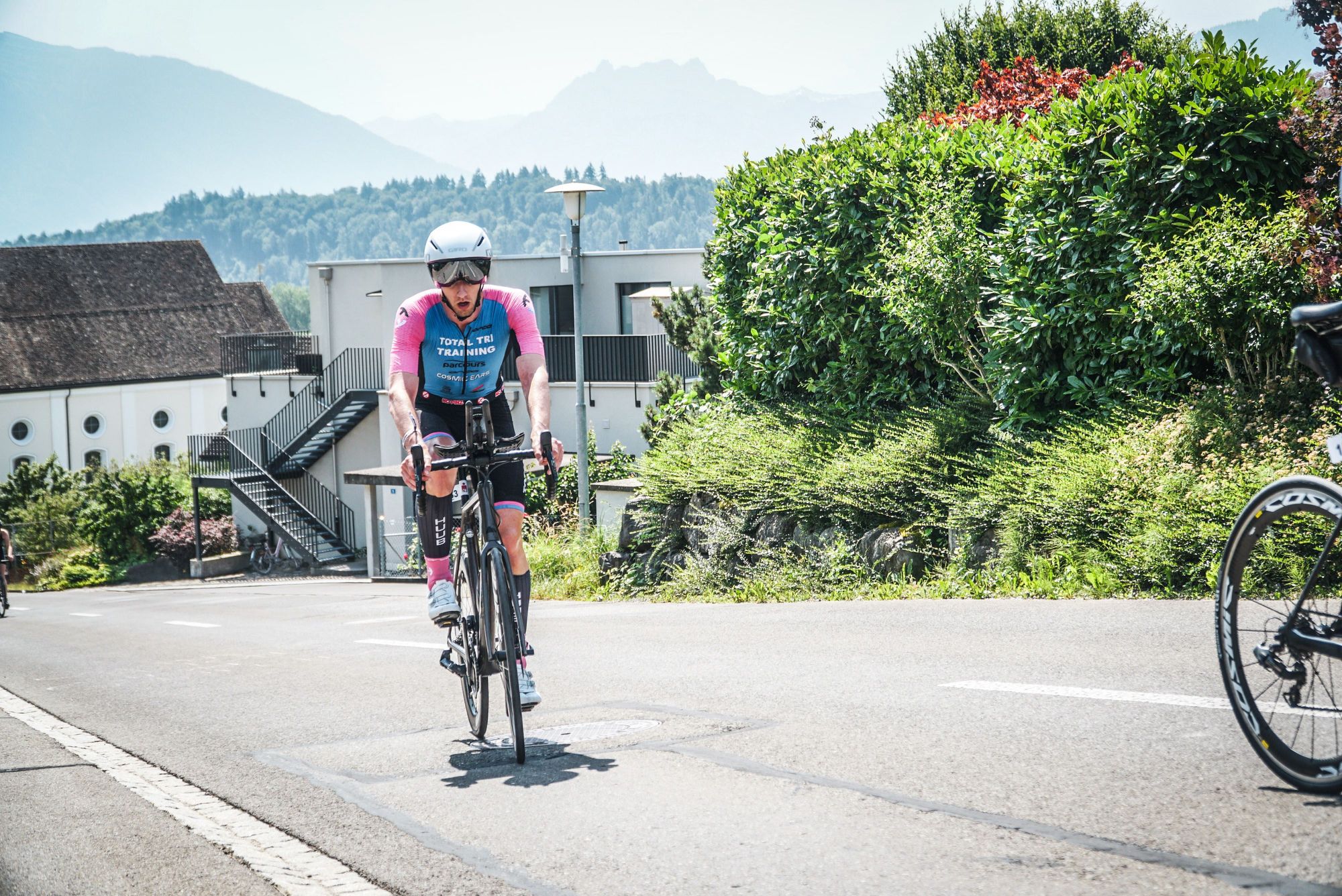 What did you learn?
Holy crap I can complete a middle distance and complete it well!
Make a checklist for transition bag packing and don't leave transition on Saturday until it's all sorted!!!! I made an absolute rookie mistake, I forgot to pack my race belt with my race number...
What worked well?
Hydration, nutrition, pacing - for my first race I am absolutely chuffed to finish so strong & feeling good
What are you proud of?
I didn't blow up - I felt like I was really in tune with my body and managing pace. I was working conservatively, knowing that I had the longest run of my life ahead of me. I didn't want to work too hard on the swim, so reminded myself to calm down a few times, and had similar moments on the bicycle - reminding myself of the run ahead in the 35-degree heat.
At the swim start, I set a tone/mission to enjoy this day and manage my pace - having never done a half marathon before I wanted to make sure I arrived at the run well & I achieved this
What didn't go well?
I put my forecasted swim finish time at 52 minutes months ago, so did the swim on my own & couldn't find any feet to sit on. This meant I had lots of weaving around people, which gave me a nice feeling of progression, but it would have been easier to find someone swimming my pace and stick with them!
I forgot my race belt!!!!! I didn't pack it in the transition bag on Saturday, 20 minutes before race start Natalie's dad arrived with it via motorbike. This added stress that I didn't need but I handled it well and was serene. This was by far my biggest mistake of the day.
My heart rate monitor never paired with my bike computer for the bike leg - wasn't phased by this but it worked for the run so time to go nerd out and fix it / work out what went wrong. This increased the importance of listening to my body & pacing to feel. My coach often talks about feel, and trying to pace efforts based on how your zones feel that day. Not having a heart rate monitor on race day made this training/approach pay dividends - it didn't phase me.
On the bike leg, I nearly crashed into the kerb, caused only by myself! About 2 hours into the bike leg my neck was starting to ache so I stretched it up and down whilst in the aero position, I lost my balance and veered towards a kerb and a big drop. Immediately put the sensible cap on and realised I need to be safe and not wipe myself out. Getting to the finish line is the sport, doing it fast comes later.
How well did you respond to things that weren't in your control? (e.g., weather)
Ahead of the race day my friends & I knew about the weather. Once we'd dropped the bikes into transition on the Saturday before the race, two of us went for a topless run in the sweltering heat to see what it felt like. This turned out to be very intelligent - it was an immediate moment of truth, where we both realised this was going to be hard and we'd have to massively ratchet down our expectations of speed. This was by far the warmest conditions I'd ever run in, and getting a small taste of what it was like the day before helped me tone down my internal dreams of speed.
I had a Core temperature sensor on, which in hindsight was a ridiculous purchase and provides extra data from the bleeding edge of the sport science that I don't really need at this point in my triathlon journey. However - it was incredibly useful. I could see really quickly on the bike that the power I wanted to be hitting (220 ish watts average) was just way overcooked for the day as my core temperature shot straight up to 38.5 which I knew was not sustainable + the power felt way harder than it should have - so early on I made a very sensible decision to pace the bike to feel & this paid dividends.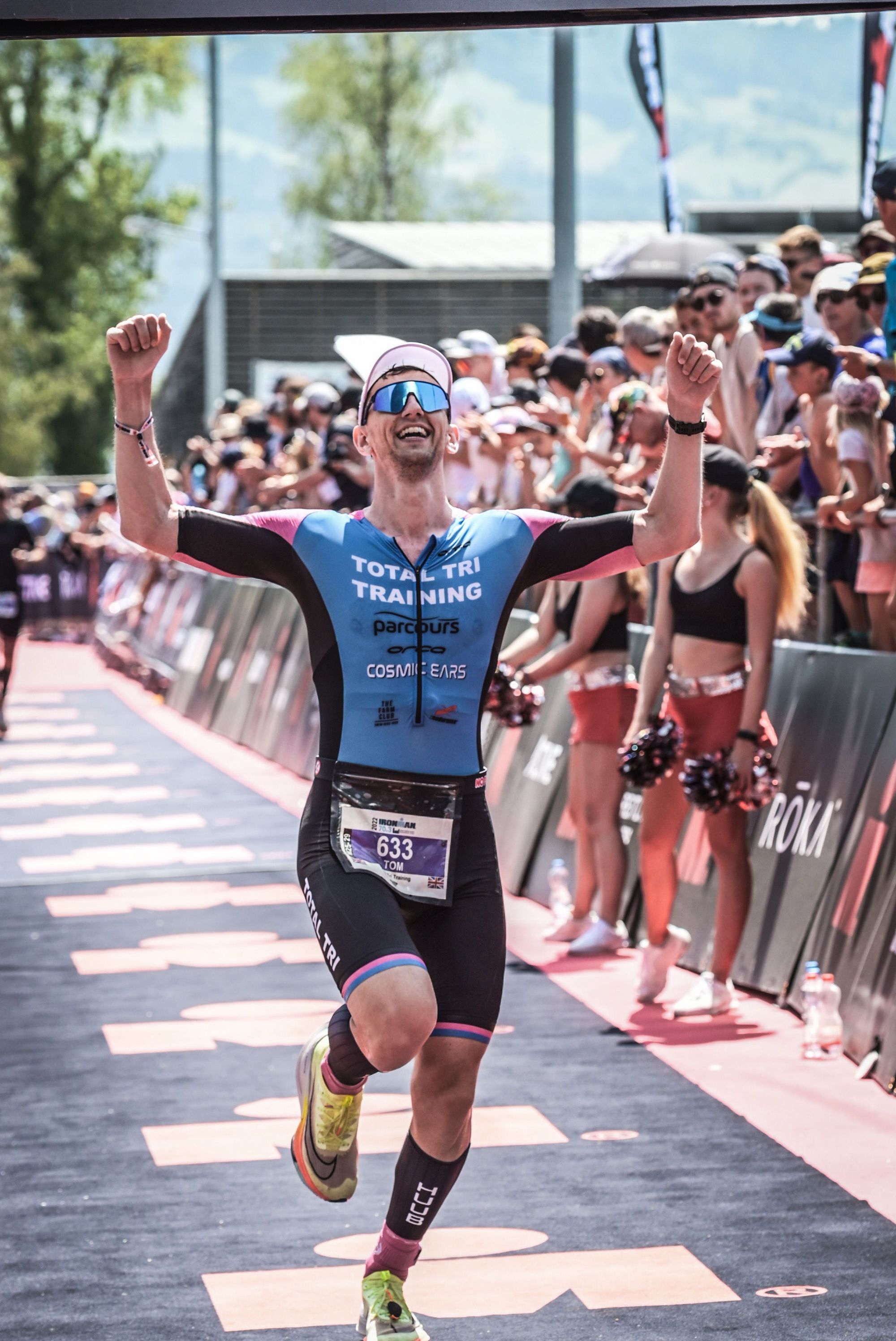 What are areas for growth?
Honestly, here I think it's just put my head down, keep enjoying the process, and see where we get to
Consistency in the few weeks ahead of the race/taper + carb loading - diet was a bit over the shop / didn't carb load as well as I could have with the knowledge I have
I now have my first 70.3 race under the belt so have wrapped my head around the little things like transition bags which I have not had to deal with in other races. I also learned the importance of a systematic checklist to make sure I put everything I need in each transition bag!
Also, a dumb random thing, after the race there were massages available. I didn't realise you had to shower, or even could shower after the race - so next time Tom put a towel in your white street clothes bag! And shower before you spend 30 minutes queuing for a massage - they will turn you away and tell you to go shower!
What were your thoughts and feelings during the race? How did they influence your actions? What was or was not effective about your mental game?
Honestly just having tonnes of fun, big smiles, enjoying the views, and thinking about pacing it well and sustainably. If anything in hindsight I wonder if I had more to give in particular on the run, I set a sustainable pace and never really lifted until the last kilometre. That said I really just didn't know how much the heat would affect me so went safe rather than sorry
I did not expect to get emotional, but wow as you hear the finish line of the race, I felt tears and shortness of breath well up uncontrollably. I guess your body knows it's just put itself under a fair amount of stress & you're realising the result of hundreds of hours of training. and all the opportunity cost that entails.
How did your pre-race planning help or hinder you?
I would self-rate the 2/3 weeks leading up to the race as the highest work stress I have had in the last couple of years - I felt generally stretched in all directions.
I also had a pretty hectic schedule - note to self, travel to America, Switzerland and Italy in the fortnight before a race are not brilliant parts of a tapering plan. Working with my coach I felt we adapted the training plan well, but all the travel led to some missed workouts, time zone + travel fatigue etc. Take it easy next time!! At the last mile, all this stress probably costs you some decent performance/readiness.
What was your fuelling and hydration strategy? Did it work?
Bike leg
I had 4 x 90g gels in my between the bar bottle - which in hindsight may have been too much & I smashed this during the bike leg quickly - possibly why I need to find a portaloo on the run!! Taking a triathlon suit off in a hot, humid portaloo is an experience I'd rather avoid.
I carried 2 x 500ml and 1 x 750ml water with PH 1500 sodium tablets in every 500ml - this stuff was a lifesaver, I didn't have cramps at all which was amazing in the hot conditions, as I am quite a heavy sweater.
Run leg
On the run, I had 2 x 90g gels which was perfect, and very easy to consume. I like the flavour of the gels and took them on consistently at regular intervals. At aid stations, I was grabbing water and then taking the 2-3 PH electrolyte capsules every hour
In general, I think I got nutrition and hydration right for this race, if anything I maybe had 1 x 90g gel too much on the bike or should have eaten some in solid form rather than all gel.