How to run Zwift and Trainer Road at the same time
How to use the Wahoo Kickr Core with Zwift and Trainer Road on one computer at the same time. We will connect the Kickr Core to Zwift via ANT+ and Trainer Road via Bluetooth.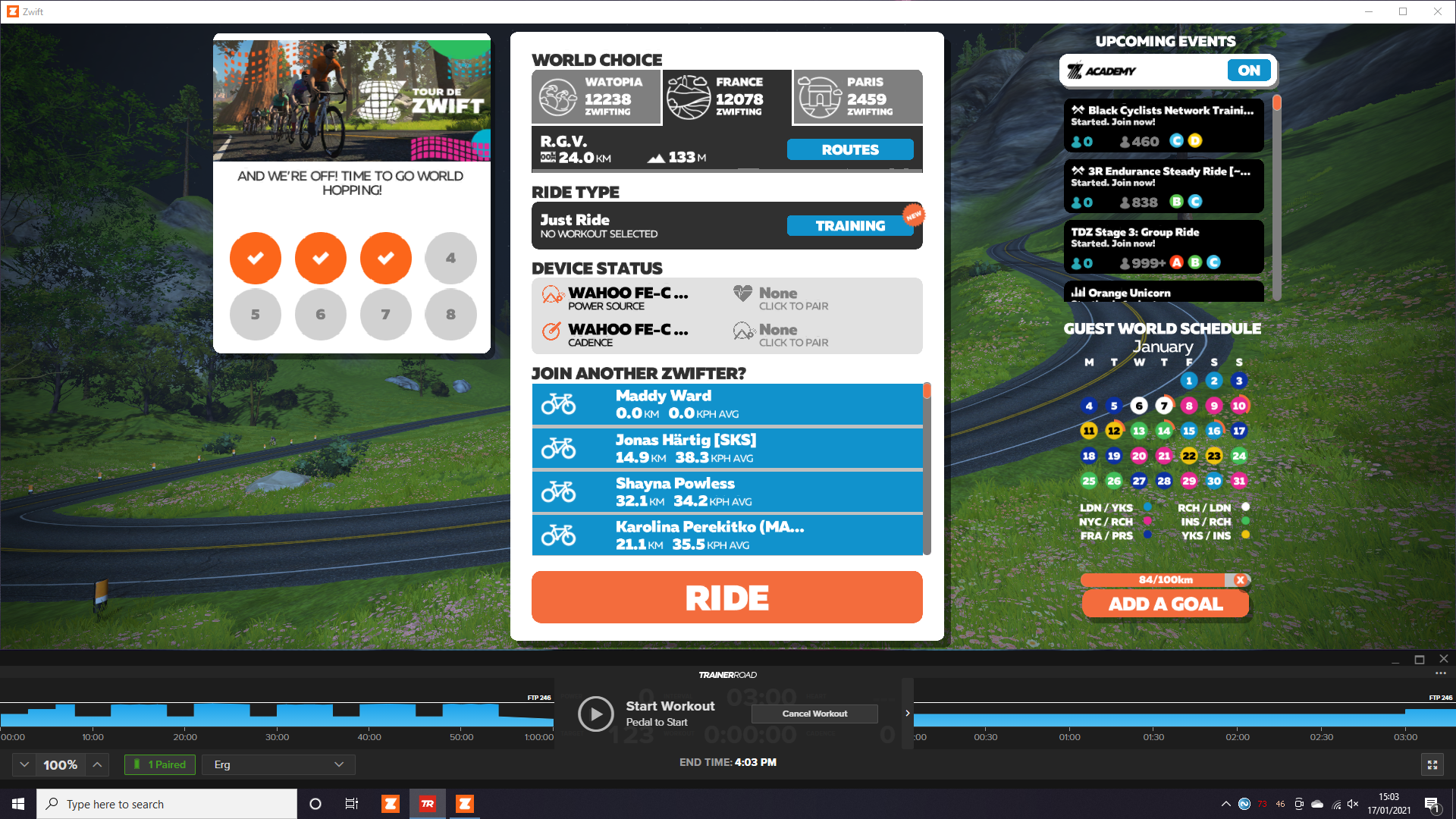 In this article, I will talk through how to use one PC to run Zwift and Trainer Road at the same time. Other training plan services integrate seamlessly with Zwift workouts such as Training Peaks. However, if you're like me and you have been sold on the science baked into Trainer Road and its automated workout scheduler, you will want to read on.
I have tried riding just with Trainer Road turned on and it is ok, but there's not too much to look at. That's where Zwift comes in. By using both Zwift and Trainer Road simultaneously I can get incredibly efficient workouts in whilst still being part of the bustling Zwift community.
The basic plan is we will connect to Zwift using ANT+ and Trainer Road using Bluetooth. We will then arrange Zwift and Trainer Road on screen and you can see both applications. Trainer Road will drive the resistance on your turbo (in ERG mode), meaning you can complete Trainer Road workouts whilst zooming along through Zwift.
To start... a bit of shopping
There are a few things that you will need to run both Zwift and Trainer Road at the same time:

Set up your new gadgets
First off, set up your new Bluetooth adapter. If you went for a USB Bluetooth adapter, plug it into your computer in a USB 3.0 port (the ones with a blue ridge inside). If you went for a PCIe card bluetooth adapter you will need to open up your computer and slot the new card into the motherboard.
You then want to connect the ANT+ dongle to the USB extension cable and plug the USB extension cable into another Bluetooth 3.0 port on your computer. You need to make sure you use a USB 3.0 port as they provide more power to the ANT+ dongle. You then want to position the ANT+ dongle itself as close to your trainer as possible (quite literally right next to it - it will probably be rock solid then even if there are power issues with your extension cable). A dropped signal during a race is very annoying - so it's worth a bit of one-time setup to get this right.
Set Zwift to Windowed Mode
If you want to run Zwift and Trainer Road on one monitor, you will need to set Zwift to run in Windowed mode, rather than Full Screen. To do this:
Startup Zwift
Start a ride (any ride will do)
Click the screen to bring up the menu button in the left-hand corner and click Menu
Click Settings
Find the Window option and click \"Windowed\" radio selector
Close the menu and quit the ride to exit Zwift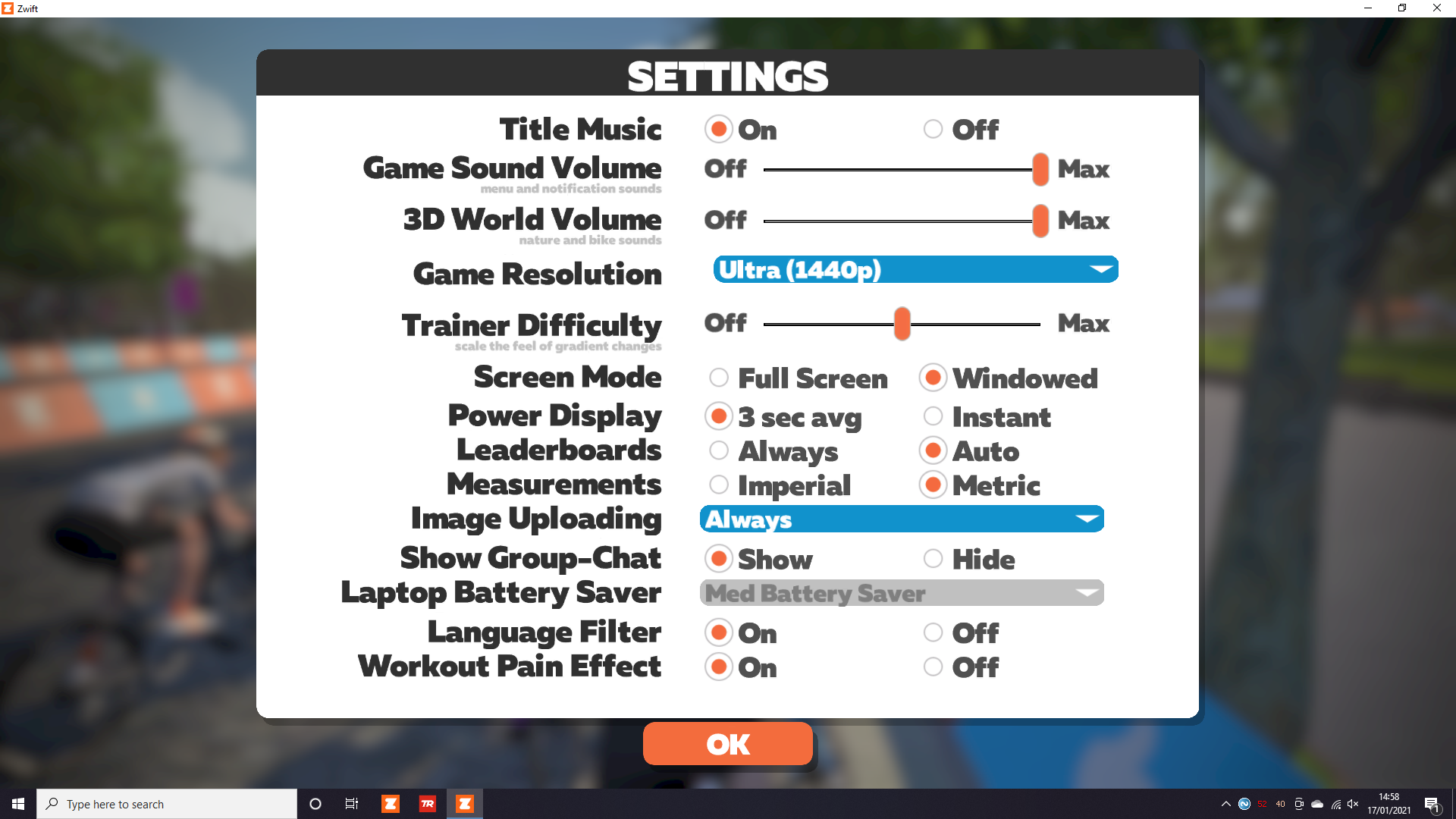 Next time you start Zwift it will load in the windowed mode.
Connect to Zwift via ANT+
Before you start, make sure Zwift and Trainer Road are not running/closed on your PC. If you have Zwift or Trainer road on another device, like an iPad or mobile phone - make sure they're closed / quit on there too.
Open up Zwift on your PC and check the Bluetooth and ANT+ icons are both turned on in the top left of the screen. You will know they are both working if small grey circles are expanding out from each icon.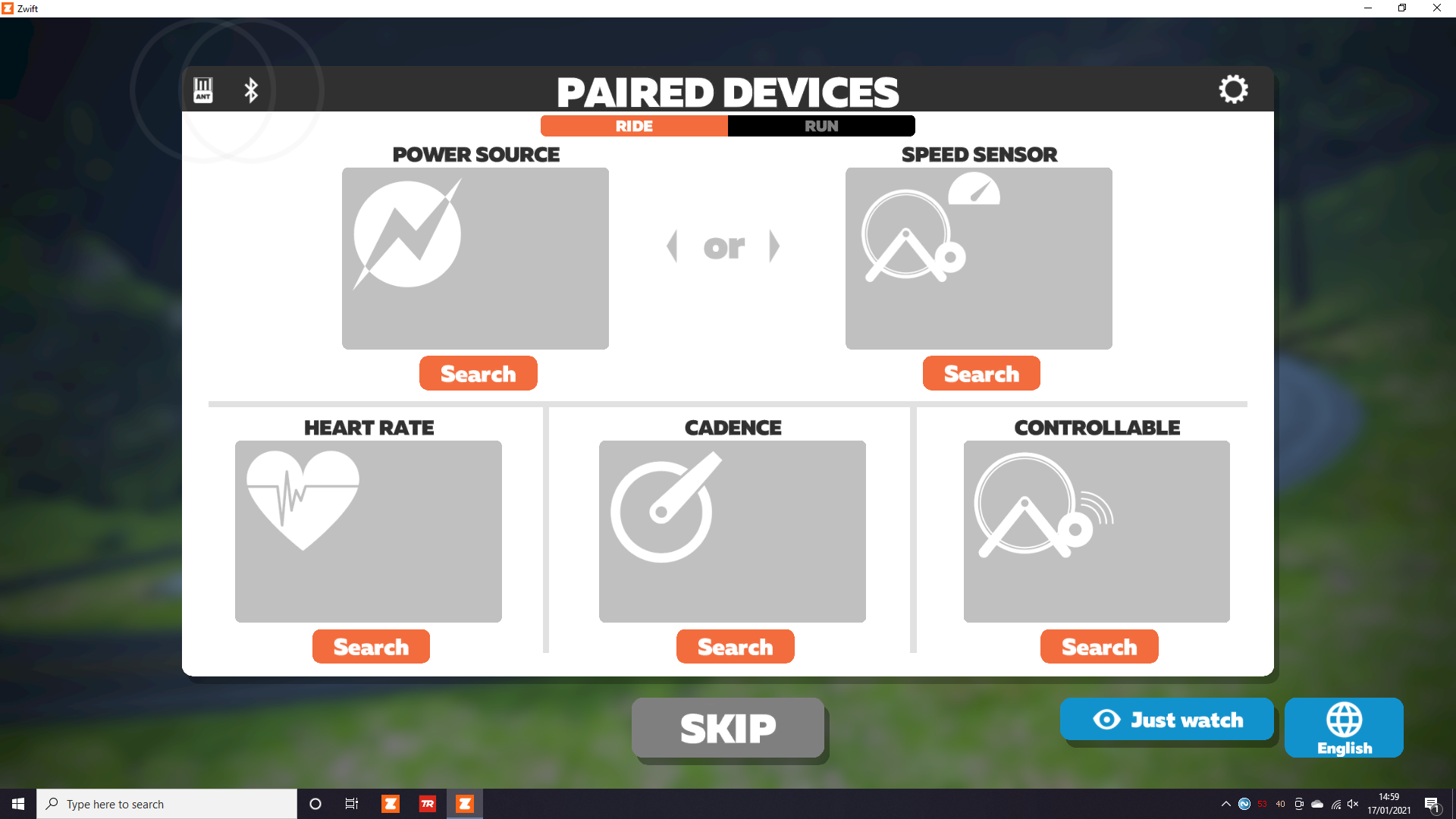 Connect to your Kickr Core in the Power section. On the screen that opens, select the option that is using ANT+. The Kickr Core will probably have something like \"FE\" in the name.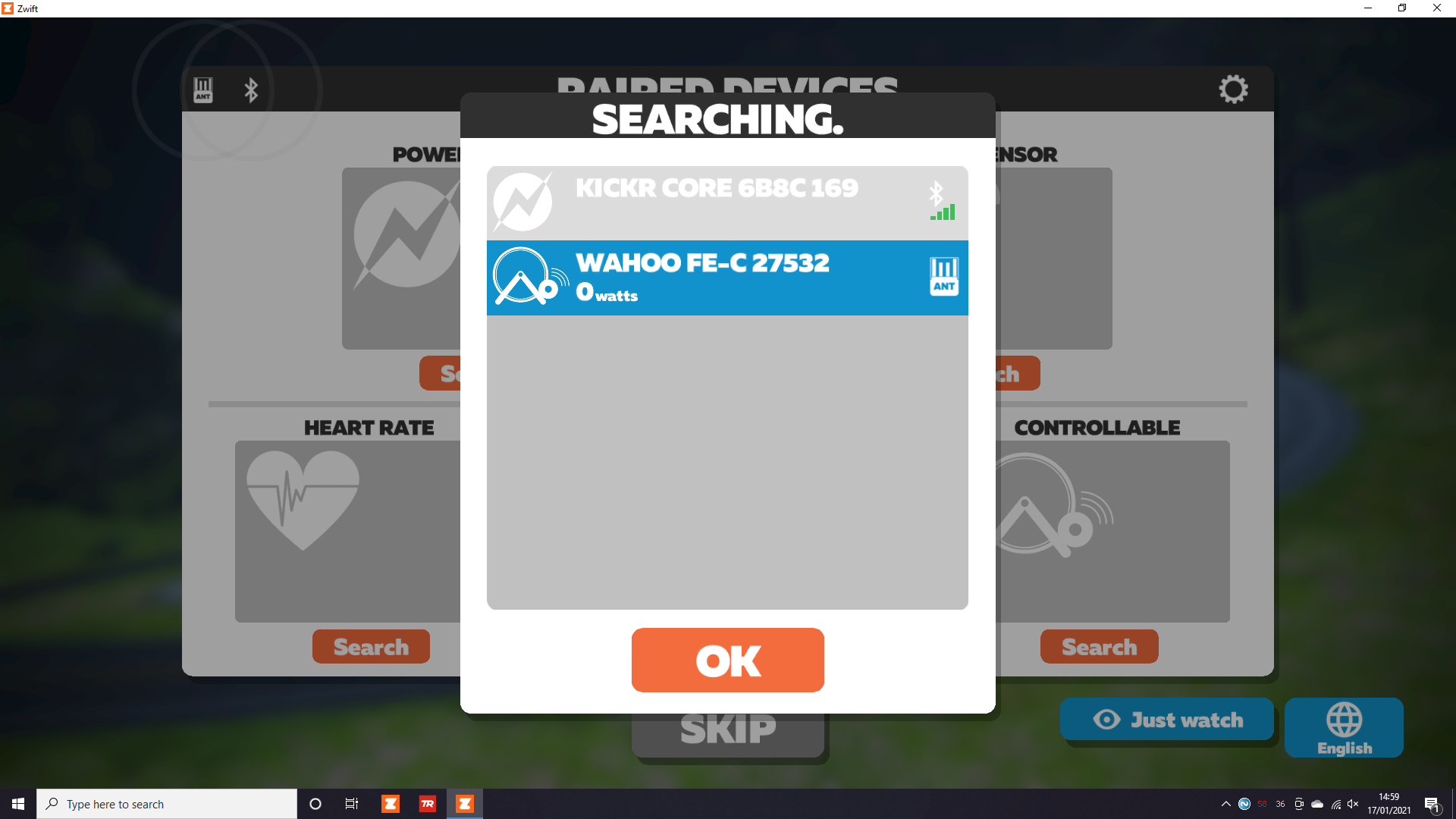 Your PC should then automatically connect to both Cadence and Controllable trainer.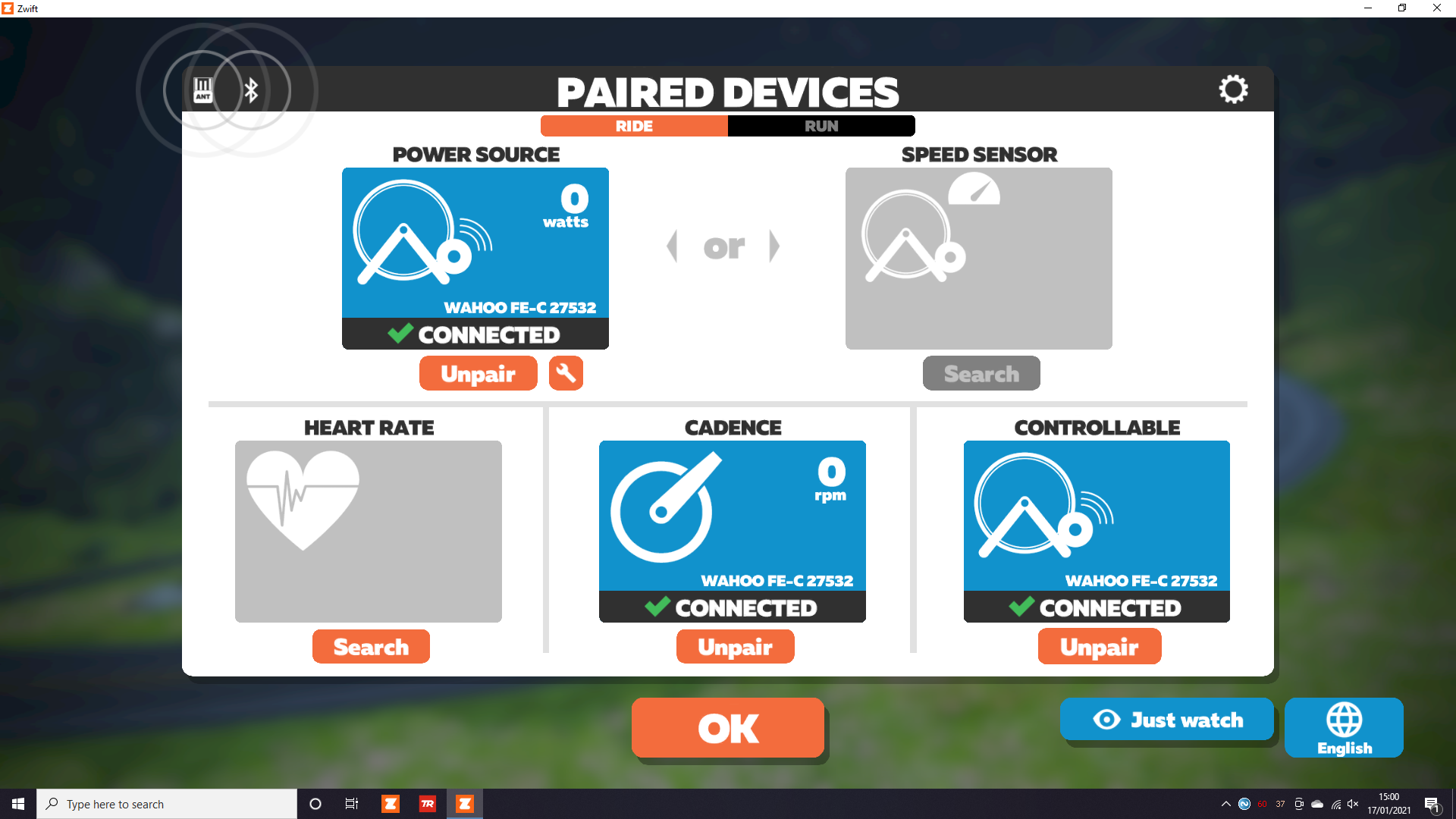 You want to Unpair the Controllable trainer. Why? We are going to be letting Trainer Road control the Kickr Core in ERG mode. We don't want Zwift fighting for control or to increase the resistance of an interval because you're heading up a mountain in Watopia! If you have a heart rate monitor, Search for it & pair it now.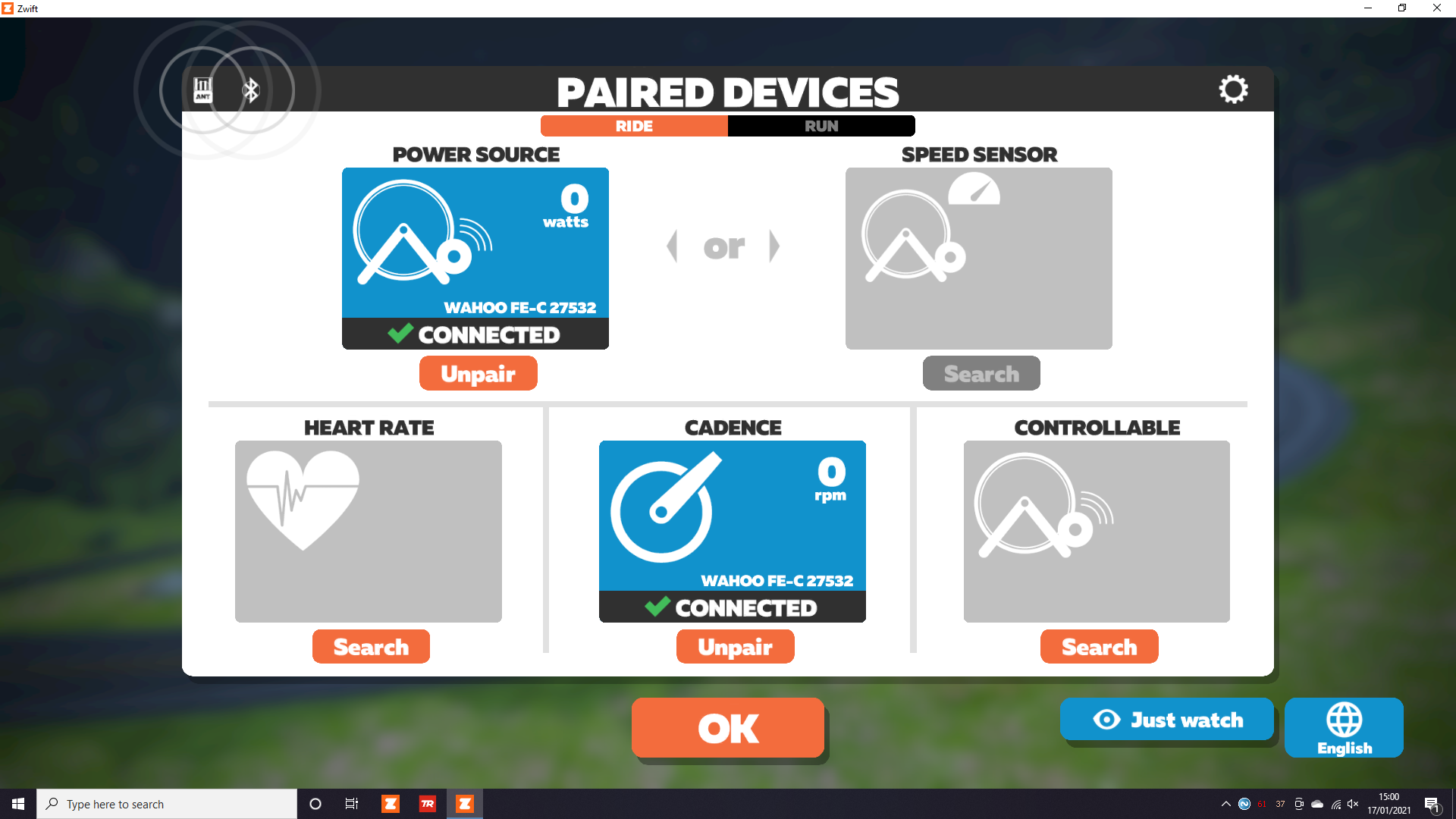 Load up any ride, route, race, or event that you want to do in Zwift.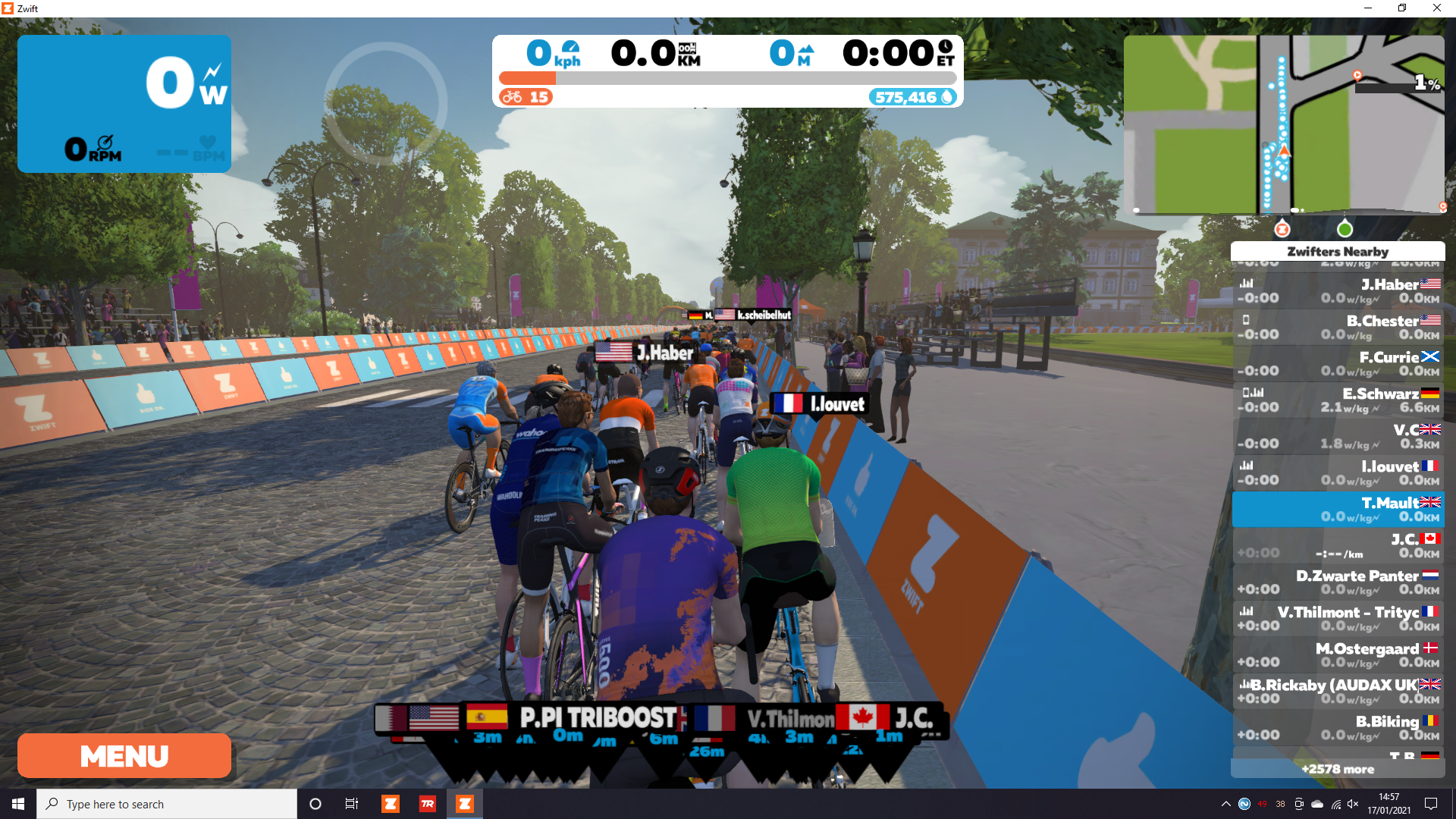 Leave Zwift running & ready to go. Now it's time to open up Trainer Road.
Open up Trainer Road and click Devices on the left-hand side of the app.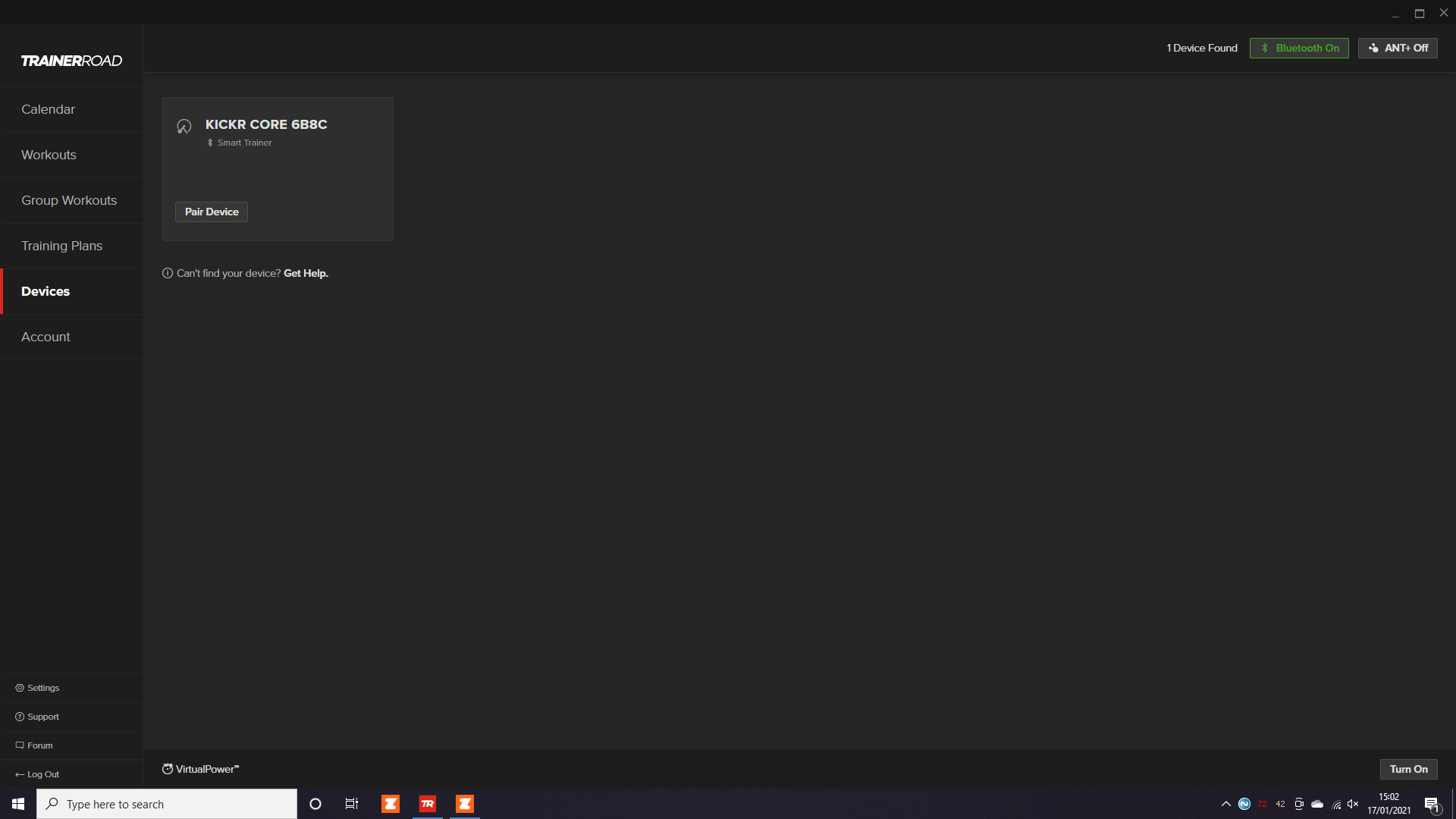 Look at the top right-hand corner of the app. Bluetooth should show as On. ANT+ is 'turned off' because it is being used by Zwift. Your device will show as Paired once connected.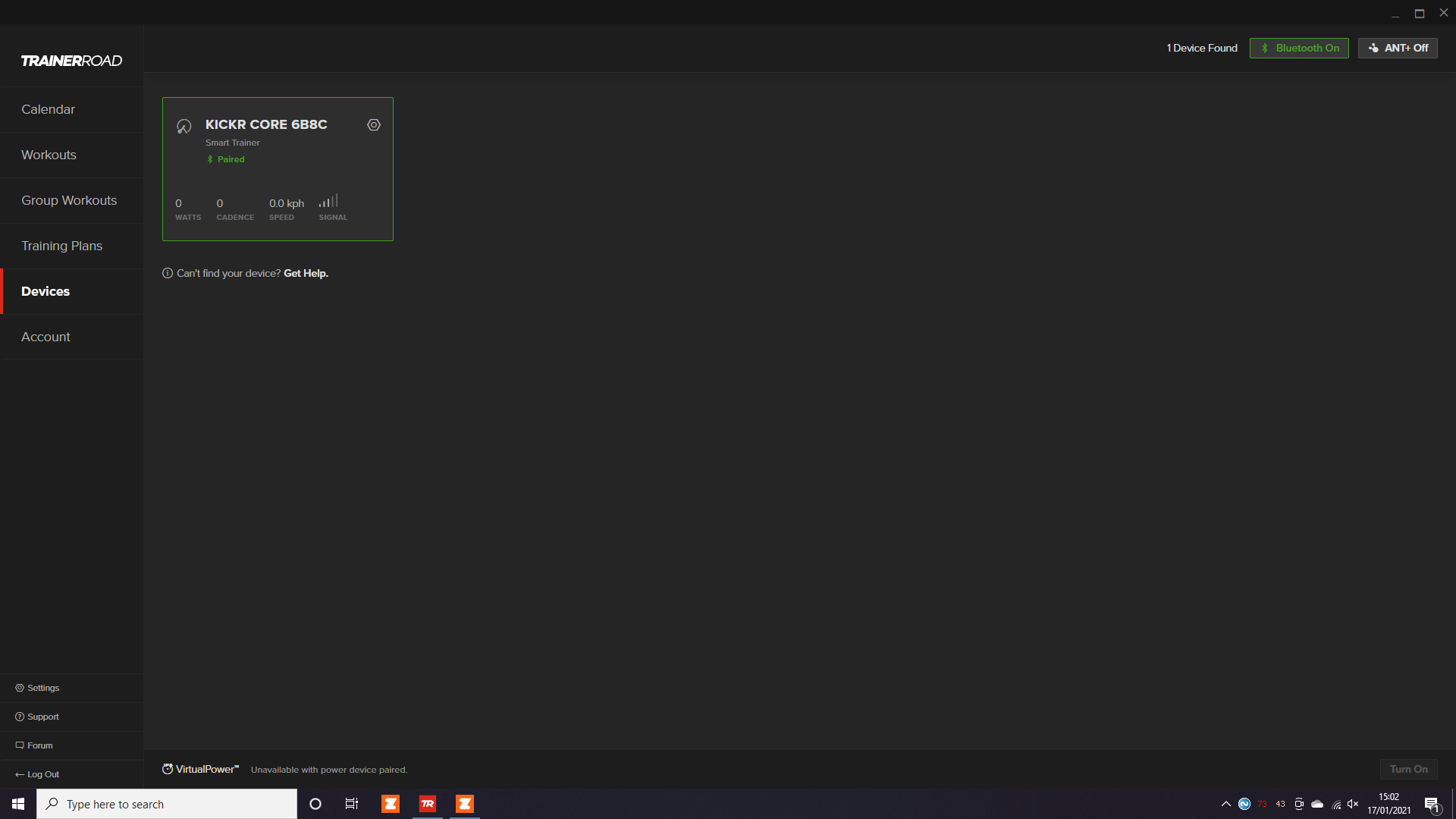 Connect to your Kickr Core via Bluetooth. If you have one, pair your Heart Rate monitor via Bluetooth too.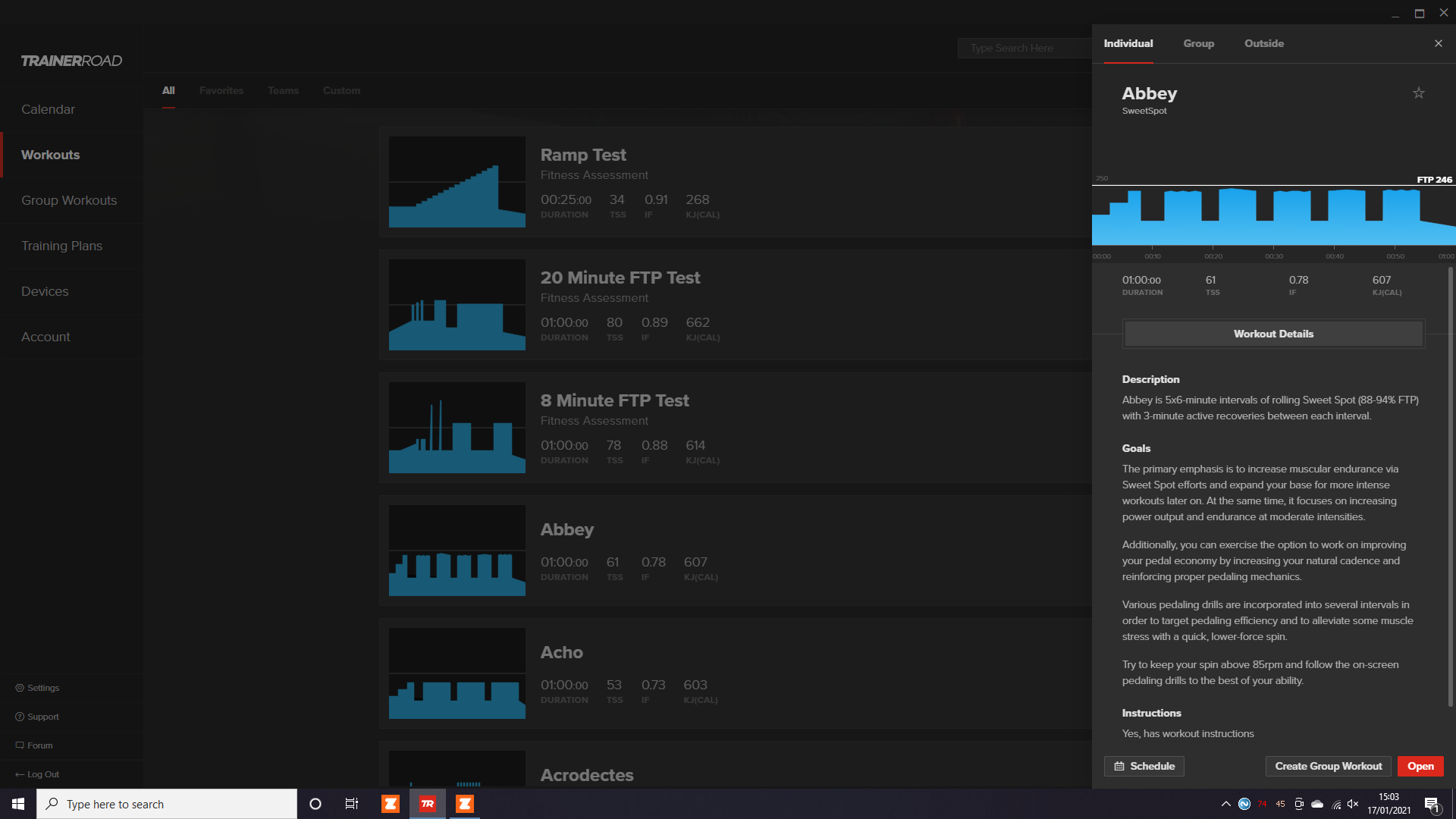 Load up your workout in Trainer Road, and click the four arrowed icon in the bottom right hand corner of the screen. This will pop Trainer Road at the bottom of the screen, leaving plenty of space for you to arrange the Zwift window. Instructions from Trainer Road will show in large white text over Zwift.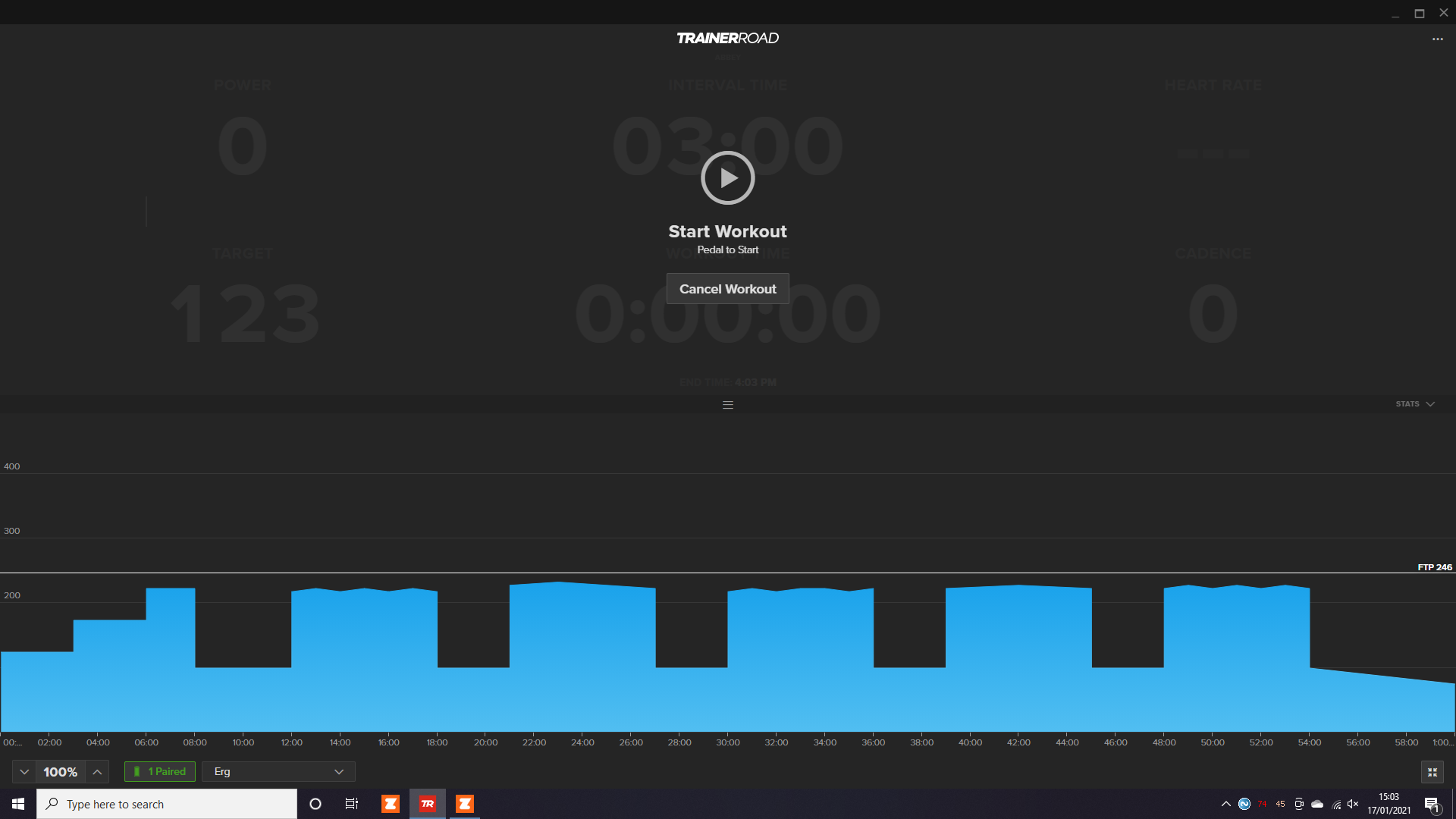 Voila! You should now be able to follow the workout in Trainer Road, and the power you are outputting in Trainer Road will be shared with Zwift. I tend to set Zwift to go on a ride through a new route so that I can earn double XP for my efforts!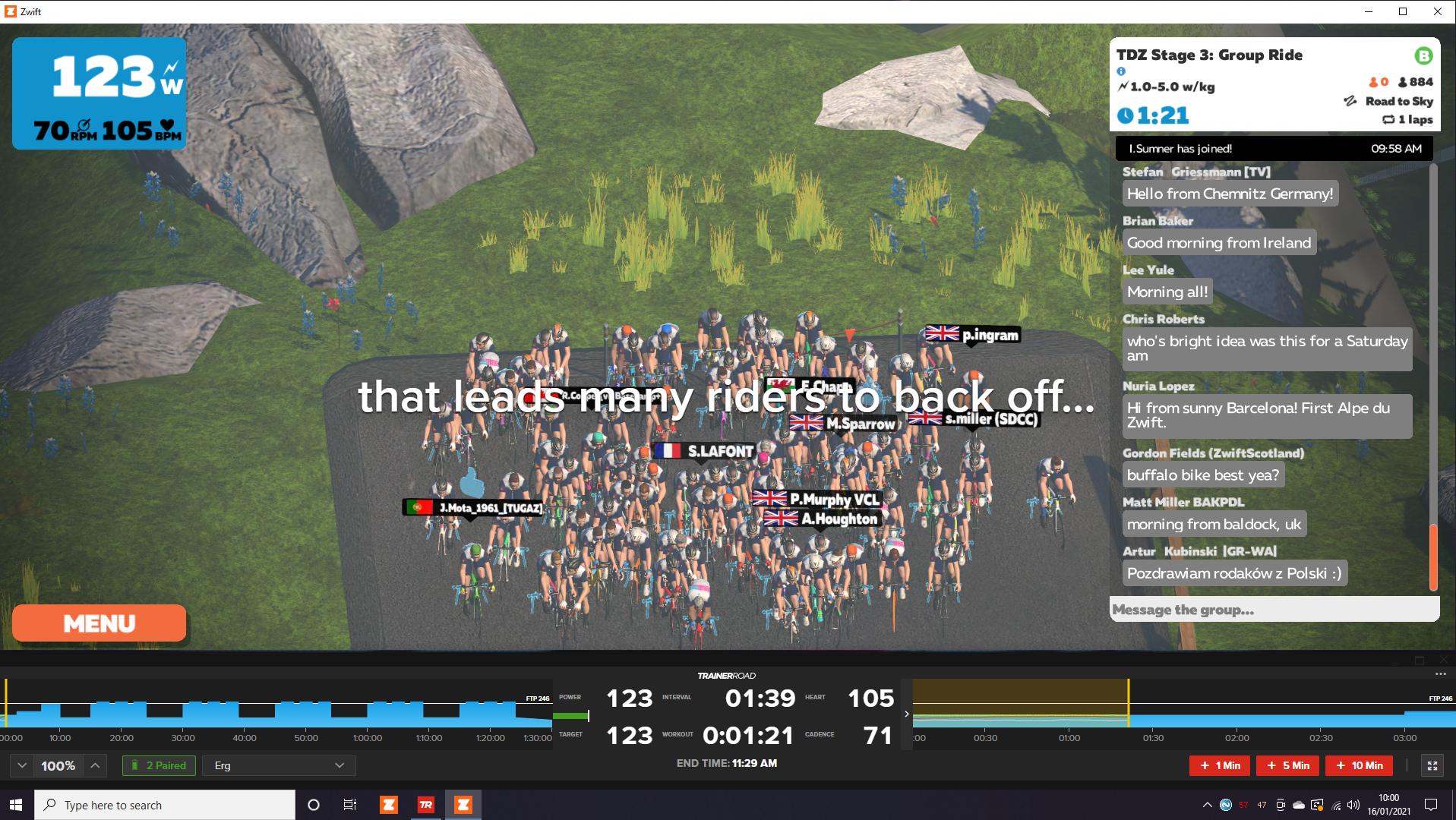 ‍