Compact Calendar 2022 with UK Bank Holidays
Downloadable PDFs and an Excel UK-specific version of the 2022 Compact Calendar by David Seah.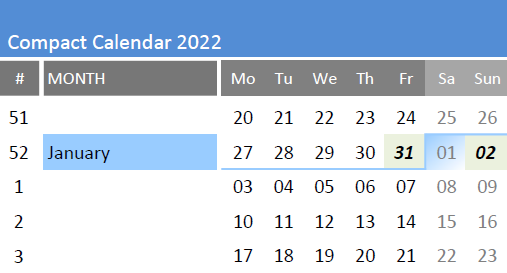 Published by David Seah, the Compact Calendar condenses a full calendar year down to a single sheet of A4 paper. They're great for visualising project milestones, commitments, or just plotting out your focus over the coming 12 months.
I have quickly put together a UK specific version using the bank holiday dates published at https://www.gov.uk/bank-holidays.
Here are links to download the files:
Excel version if you want to tweak the colours, style, or change the start dates.
The original documents are available at https://davidseah.com/node/compact-calendar/.